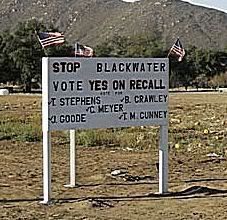 The old grey lady, otherwise known as the
New York Times has a piece up
about the attempt by Blackwater to move in and set up shop in the tiny town of Potrero, CA and what happens to the planning board members that supported Blackwaters effort . Five members of the planning board are being recalled because of their
support
for the Blackwater base. Three of the group's nine members have already been removed because Blackwater opponents revealed they had been improperly appointed.
This is how democracy should work imho. If your leaders fuck you over, you recall their worthless asses. There are a total of 509 registered voters in Potrero.
Over 50% of them voted
in the recall election held Monday. The county Registar began counting the votes Monday evening around 8pm. Since it was a mail-in vote, they must validate all votes prior to releasing the results.
Blackwater thought it would be a cakewalk to stroll into the tiny town and set up
"800 acres of rifle ranges, dormitories, classrooms and an armory"
.
Guess they found out different. In an era where city planners rarely listen to the desires of their constituents, this is very refreshing I think.
I will report the results when they are released.
tags:
Potrero
,
Blackwater
,
recall election