America's sea change. Our racial divide is becoming extinct perhaps? One can only hope so...I pray that it is.
The emotions I feel at this moment are incredible. I still worry about his safety, and I hope that is just me...that no one will be so stupid as to try to take him out.
As for America's voters, they might have voted for the lesser of two evils. They might of voted against the Republicans. Lots of reasons why people voted as they did, of that I am quite sure.
But I just want to bask in this moment...a highpoint in what has been a lousy eight years in the depths of hell.
Even McCain has conceded. Thanks John, it was a decent concession speech, when your faithful started to boo, you told them to stfu.
Let the healing begin...please.
Also, check out this hysterical graphic I filched from
Dizzy Dezzy
: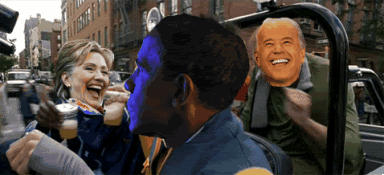 And the final part of his speech last night...about the 106 year old woman, it takes my breath away.